1. Boarding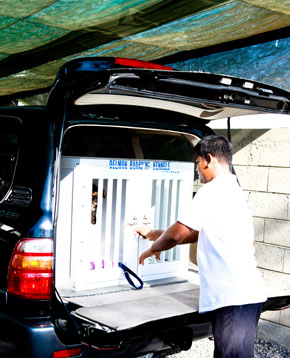 Looking after your pets whilst you're away and giving them a home-away-from-home is what we do.
Booking in advance is recommended as we do become very busy during the summer and public holidays, and for all bookings we require a non refundable deposit of BD 50 for dogs and BD 30 for cats per month. All pets will be Frontlined and wormed upon arrival at the kennels and they must have all the required vaccinations.   This is standard practice to ensure the health of all pets under our care.
By prior arrangement your dog can undertake socialisation with other dogs and also have a go at a variety of activities including Swimming, Agility Activities and Mind Games!   These can also be booked as individual activities and are not just available to dogs that are boarding.
Our boarding pick up and drop off times are Sat-Thur between 10-12noon and 4-6 pm.
If you would like to make a boarding booking, please contact us via the booking page.
List of Boarding Services:
&nbsp