Looking after your pets whilst you're away and giving them a home-away-from-home is what we do.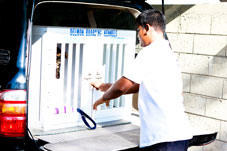 Booking in advance is recommended as we do become very busy during the summer and public holidays, and for all bookings we require a non refundable deposit of BD 50 for dogs and BD 30 for cats per month. All pets will be Frontlined and wormed upon arrival at the kennels and they must have all the required vaccinations.   This is standard practice to ensure the health of all pets under our care.
By prior arrangement, your dog can undertake socialisation with other dogs and also have a go at a variety of activities including Swimming, Agility Activities and Mind Games!   These can also be booked as individual activities and are not just available to dogs that are boarding.
 Our boarding pick up and drop off times are Sat-Thur between 10-12noon and 4-6 pm.
 If you would like to make a boarding booking, please contact us via the booking page.
List of Boarding Services:
Do you have a highly energetic dog, or are you out working?   Do you have little time for long walks?   If so, our Play Days could be just the thing for you.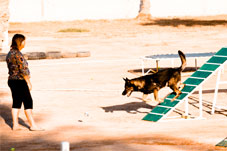 Drop your dog at the kennels, and during the day your dog will have the opportunity to either swim in our hydropool or have a go on our dog specific Fit Fur Life treadmill.   During play days your dog will also get chance to socialise with other dogs during supervised playtime.   They also have the chance to play and run around in our exercise pounds.
Once the day is over, pick up your washed and tired dog and head home for a relaxing evening.
Play Day's are a great way to burn off excess energy and to give your dog a little treat!
If you would like to make a booking, contact us via the booking page.
List of Play Day care Services:
Having an obedient dog that follows commands, comes when called and walks on a leash without pulling, is something we would all like.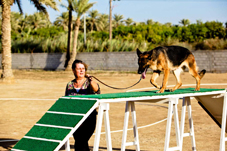 At Delmon Kennels we can help with either Private Training or with attendance at Group sessions. In order to identify the right training option for you and your dog, we recommend a 1 hour assessment meeting and by the end of this we will have agreed the next steps.
Group sessions are a mixture of Obedience, Agility and Socialisation to ensure that you have a well behaved and a well rounded dog.   Private sessions will be tailored to your dogs specific needs and after attending a number of these your dog should be able to graduate to attending group sessions. Training gives your dog mental challenge, mental stimulation and helps them understand who is the pack leader in your relationship.   This makes for happy dogs and happy homes.
If you would like to discuss training or make a booking, please contact us via the booking page.
The list below summarizes main training activities, click on each activity to find out more details.
List of Training  Services:
4. Grooming
Does your dog need a wash, a brush up and a haircut?   We can help with this.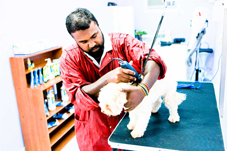 All our grooming is done without sedation and will ensure your dog comes back looking and smelling great!   We also do nail clipping. You can also treat your dog to a 'Spa Day' where they will have a mud bath using mud that has come all the way from the dead sea.   This treatment is great for the dogs skin and coat and is also nice and relaxing for them. If you would like to make a booking, please contact us via the booking page.
Services:
5. Fun Extras
Do you want to celebrate your dogs birthday?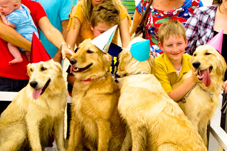 Do you fancy a doggie birthday party?   Delmon Kennels can arrange this for you.   Have a look at the pictures in our Gallery and see what we can do.
 If you would like to make a booking, please contact us via the booking page.
6. Transport
Sometimes transporting your pet to and from the kennels isn't always convenient for you.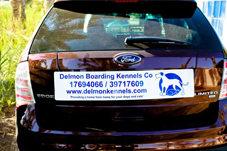 If this is the case, we can provide a pick up and drop off service to all locations.    Whilst being transported, all dogs and cats are secured in their own crates for their safety.
If you would like to find out more about our transport options, or make a booking, please contact us via the booking page.
If you're looking for Pets Relocation Service, then our sister company "Delmon Pets Relocators" is your best choice!

For details on how to contact us: more details
&nbsp